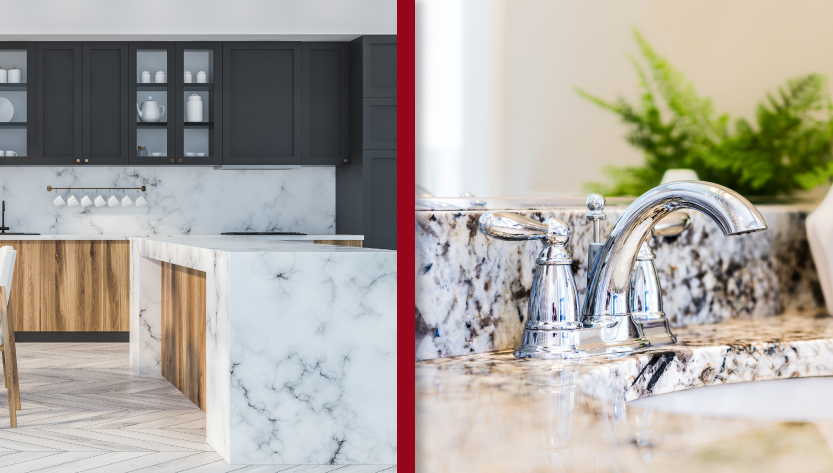 Are you searching for the best kitchen countertops, flooring, or bath? Both granite and quartz remain common materials used, due to their durability and the aesthetics they add to any space. However, property owners find it a daunting task to choose between these two materials. Though similar in appearance, their properties are different from each other. When you decide to redesign your property surfaces, you need to acknowledge the characteristics of both.
This article assists you in making a prudent choice about the stone that best suits your preferences. Let's compare Granite vs. Quartz.
Granite is a Natural Stone
Granite is an igneous stone resulting from the mining of pure quarries and then cut into slabs for countertop construction. It is a 100% natural stone with an organic appearance. The material has varied color patterns with the reflection of natural pigments.
Moreover, granite mainly contains feldspar and quartz, giving it toughness and natural consistency. The surface is durable and requires proper sealing. You need to take proper care while handling these natural stones.
Pros of Granite Applications
Visually appealing: Granite has striations that make it a visually appealing natural stone.
Natural colours: It is unique enough to offer you a range of natural colors to choose from.
Offers durability: If sealed properly, it is durable and doesn't soak liquid.
Maintains shine: In sunlight, it does not fade away.
Resistant to heat and scratch: It can withstand high-temperature changes. It's also scratch-resistant.
Relatively cost-effective: Granite countertops are more cost-effective than quartz and other alternatives.
Usable for outdoor use: It can be used in outdoor conditions.
Cons of Granite Applications
Sealing requirement: Granites are strong and durable only if they are sealed properly.
Catch stains: It can catch stains to some extent. But, usually, these stains aren't permanent.
Porous surface: The surface is porous and can absorb oils, wine, and other infusions without sealing.
Possibility of cracks: Despite being tough, the granite may catch a crack due to inherent imperfections and swirls. But that's a fact that no material is 100 percent crack-free.
Bacteria growth: It can harbor bacteria due to its porous nature. Properly sealing can avoid it.
Regular maintenance: The stone may require additional maintenance and periodic sealing to save the investment.
Relatively lesser smoothness: It is difficult to find a stone without swirls and is not much smooth.
Quartz is an Engineered Stone
Quartz is a man-made stone that is manufactured from crushed quartz, resins, and other stone by-products. It is available in different colors and patterns. Being non-porous, it is best for surfaces that have moisture. For instance, quartz is suitable for bathroom countertops, walls, and flooring.
Additionally, this engineered stone can be combined with reflective materials to have a sparkling touch. It is not obtained as slabs from quarried rocks, but they are improvised into slabs for practical use.
It is more durable and harder than its granite counterparts. Moreover, its maintenance and cleaning are pretty easy and simple. It is scratch and stain-resistant. Also, it adds value to your home. You need to follow care tips to protect your quartz surfaces from damage.
Pros of Quartz Applications
No sealing requirement: Quartz does not require sealing due to the resins used in the slab's fabrication.
Rarely cracks: The material is uniform and rarely cracks.
Stain resistant: It is more resistant to staining due to synthetic resins.
Less porous: The quartz surface is less porous than the granite and is less susceptible to holding bacteria.
Easier handling: It is more flexible and easier to handle.
Quick installation: The installation process is easier than a granite installation.
Smooth surface: It comes in smoother and planar surfaces.
Cons of Quartz Applications
High temperatures can cause damage: Quartz is heat resistant, but it can be scorched under high temperatures.
Non-compatible with outdoor environments: It cannot be used outdoors. The color might change when exposed to UV rays.
What can the International Granite Company offer you?
International granite company is dedicated to supplying a top-quality collection of granite and quartz countertops at affordable rates. You can get natural or engineered stones as per your preferences. We provide our customers with top-notch services. Our cut-to-size granite countertop collection offers you cost-effective natural stones with comparable sizes. We offer innovative solutions to make informed choices easy for our clients.
Moreover, we also offer a Swiss performance quartz countertop collection for our customers. If you want to get durable and first-class engineered stones, you can increase the value of your home by getting our top-notch products.
In short, when choosing the best material for your kitchen or bath counterparts, a fantastic application is either granite or quartz. Both materials have their pros and cons. It depends on your budget, needs, and preferences on which material best meets your demands. If you want to get high-quality natural or engineered stones, connect with us. We offer the best stones that add value to your property's interior design.